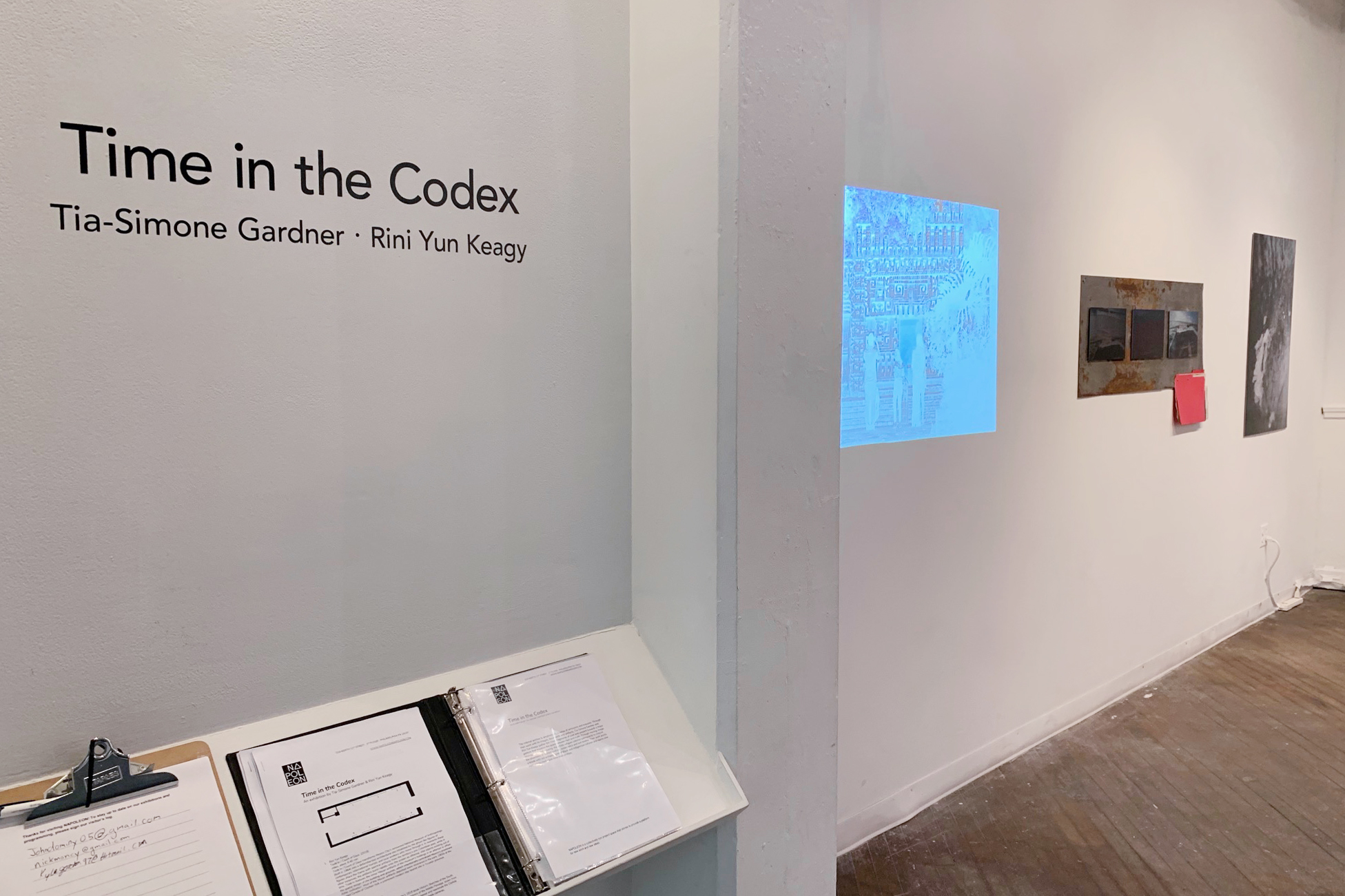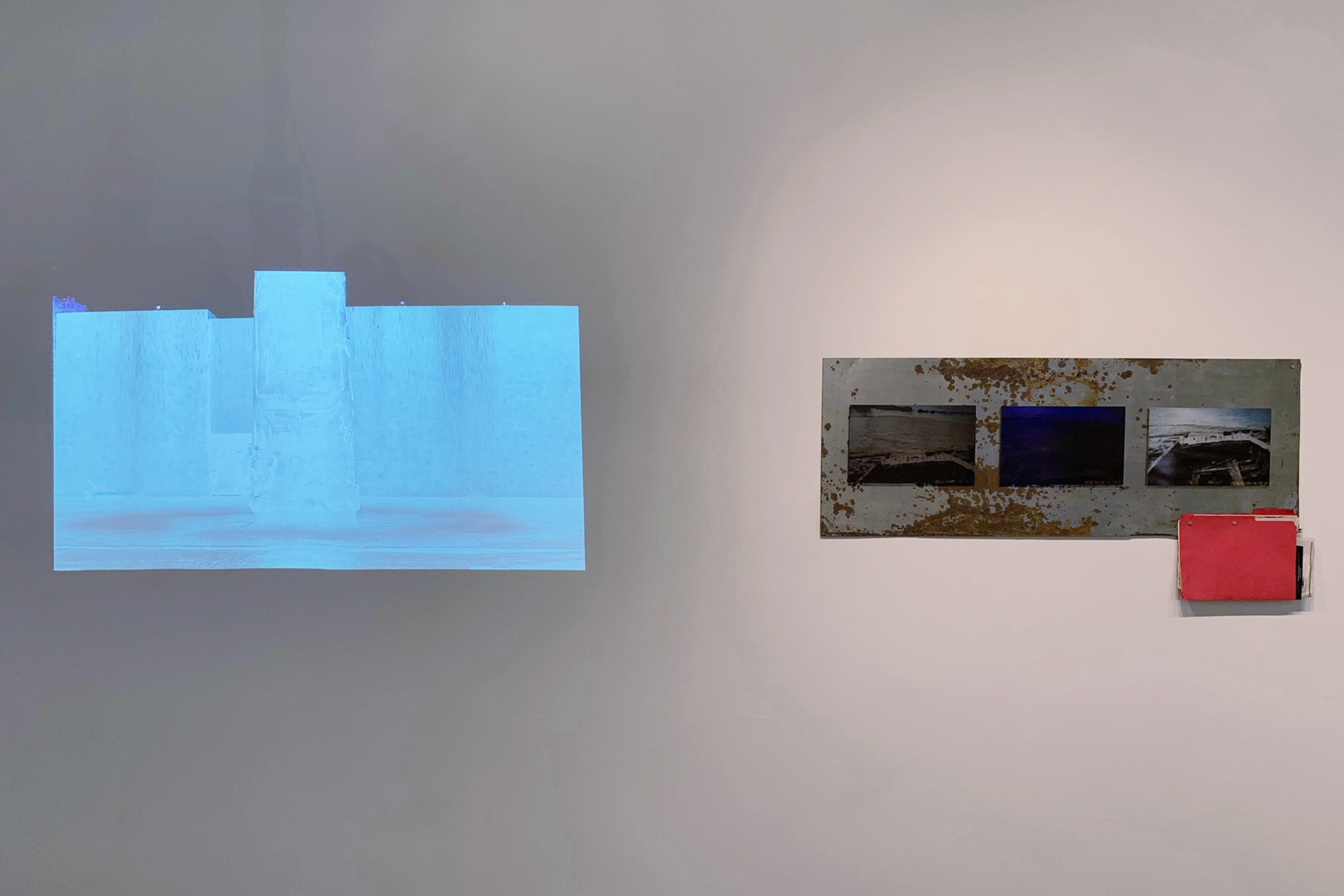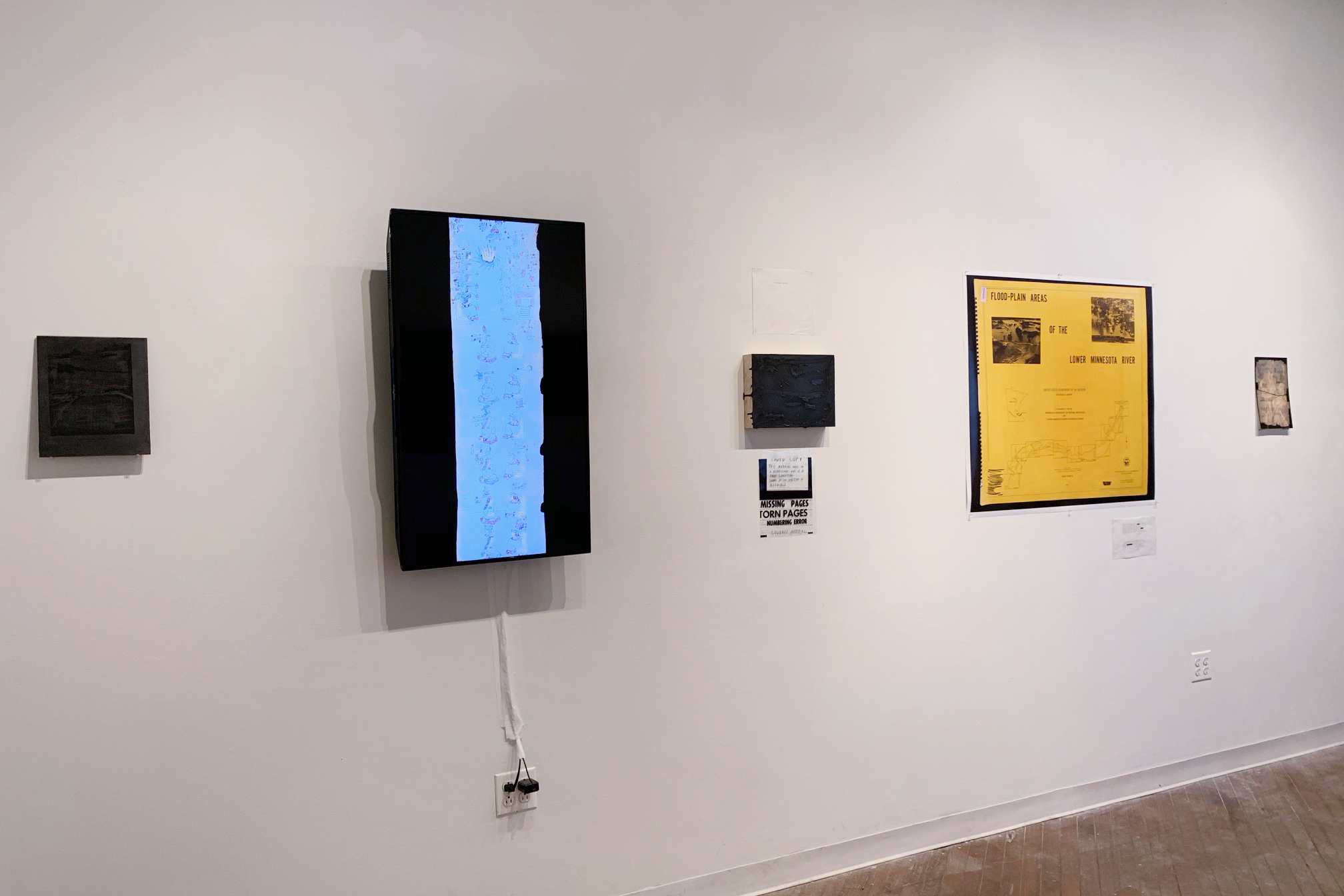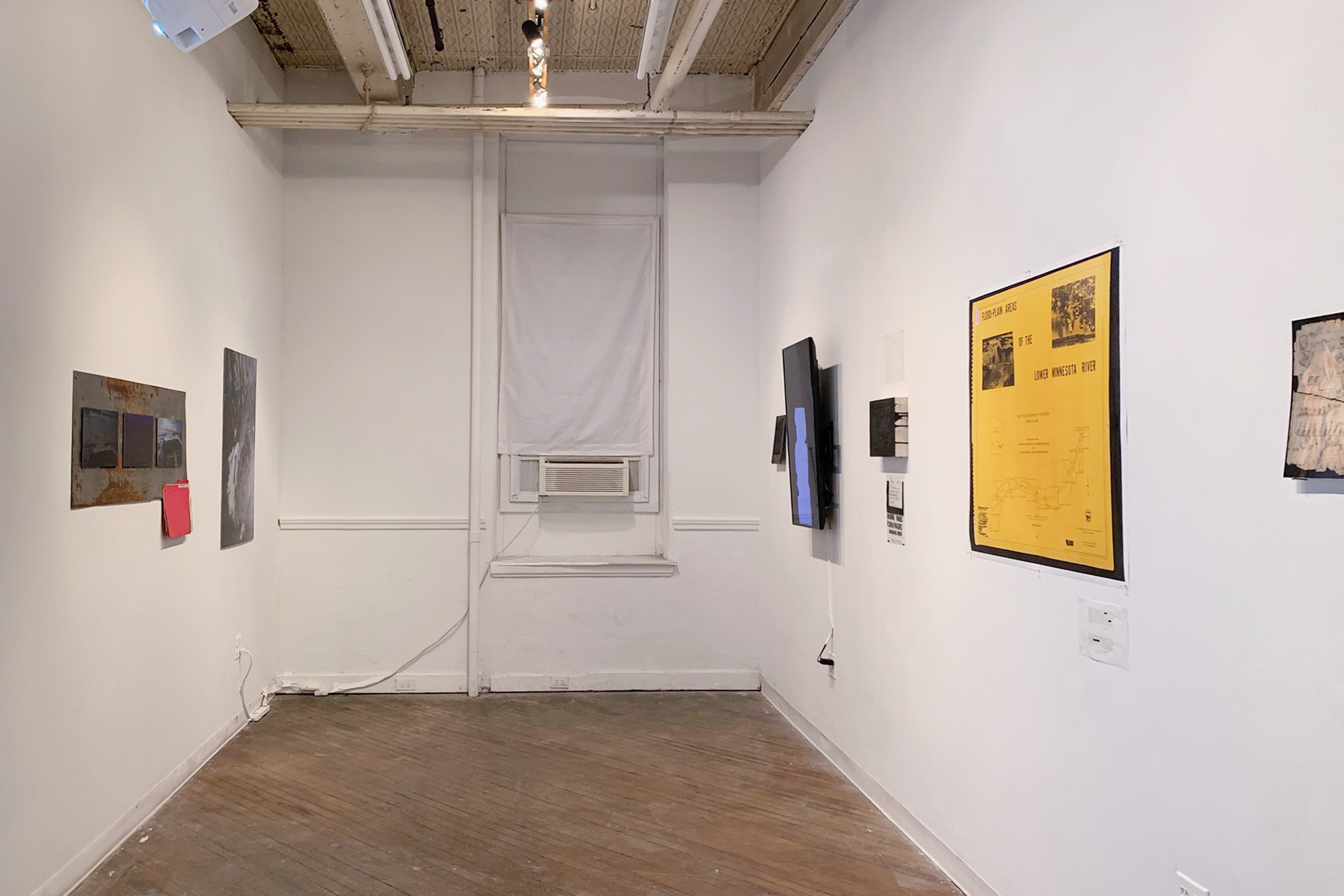 Two-person show: Tia-Simone Gardner and R Yun Keagy
Statement
The ancient Mayan sense of time, cyclical or circular, informs much of my work with the archive. The ruins of effaced histories, repressed knowledge and vanished souls take breath in and through time, reverberating into presence. Today we witness the migration of indigenous and mestizo descendants seeking refuge from generations of colonial violence, like a reemergence of the centuries. In these works I aim to conflate time, to bring it forward and back in the non-linear mode of our own sentience, and to activate our sense of justice and collective conscience.
Object Descriptions
Auto-da-fé
(lenticular photograph, 2019)
This piece depicts the genealogy of a family in one page deriving from the collection of Techialoyan codices, produced in central Mexico between the 1600s and 1700s. Some of the surviving manuscripts of this collection were translated from Nahuatl to Spanish and used to prove and assert indigenous land rights – just one example of their imperative. While this page is part of a preserved, extant codex, it is here juxtaposed alongside a burning fire epitomizing the fires used in the Spanish, Portuguese and Mexican Inquisitions to not only destroy countless indigenous documents and paintings deemed to be impious, but to also ravage the bodies that produced them. Auto-da-fé (from the Portuguese "Act of Faith") was the punishing of convicted heretics in a public ritual, at times burning the condemned individual(s) at the stake. The title of this work exemplifies the convergence of murder, genocide and cultural erasure.
Amatl
(video, silent, 6:30 min, 2019)
Thousands of Mayan and Aztec codices were destroyed (burned) by Catholic priests and conquistadors, an act of cultural, historical and spiritual erasure. Most of the few extant manuscripts were later found in other parts of the world, having been stolen from their places of origin. Amatl is the Nahuatl word for the bark paper manufactured and used by pre-contact peoples, including spiritual leaders. During the Spanish Conquest, the production of amatl was banned, further diminishing the continuation of artisanal knowledge and cultural ritual.
Tzolk'in / Count of Days
(video, silent, 6:40 min, 2019)
Tzolk'in / Count of Days
transforms Mexico City's renowned National Museum of Anthropology (built in 1964) into a defamiliarized architectural site inhabited by the ghost-like figures of contemporary international tourists and local workers who move through it. In moments these figures share the frame with spectral artifacts from the territory's pre-Colombian past, while in other instances, the artifacts burst rapidly onto the screen as ethereal, vital objects existing out of time. Tzolk'in features the minor Mayan artifacts of the museum's holdings in an attempt to offset the spatial design of the building and grounds, which intentionally centralized Mexico's prominent Aztec civilization. Most of the Mayan artifacts depicted were recovered in the early 1900s at the Sacred Cenote of Chichén Itzá, a prominent modern day tourist site in Yucatán province.